Project "International Family Centre"
To mark the 50th anniversary of Deutsches Beteiligungs AG in 2015, the Gemeinnützige Stiftung der Deutschen Beteiligungs AG made a one-time donation in support of the International Family Centre (Internationales Familienzentrum e.V. – IFZ) in Frankfurt am Main.
The International Family Centre (Internationales Familienzentrum e.V. – IFZ) works as a social and educational provider in Frankfurt. It offers a broad range of advisory, educational and integration services for German and non-German families and, in its capacity as an intercultural centre, makes it possible for people of different backgrounds to come together in Frankfurt, a city with a large non-native population.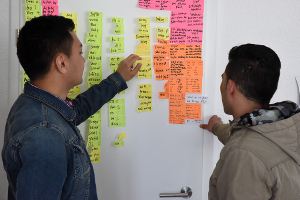 In June 2014, due to an unforeseeably large number of refugees, the IFZ was faced with the challenge of organising accommodations in just a few hours for young refugees who had mainly come from Eritrea and Somalia. What was originally an ad hoc emergency response has today become a permanent institution in Frankfurt for 22 young people. In addition, the IFZ has established two facilities that can receive up to 52 newly arrived refugees; it also has resources in place to assist 15 young refugees as they integrate into the Frankfurt community. In the first quarter of 2016, moreover, two additional facilities accommodating 40 to 50 people will follow. Today, most young people assisted by the IFZ come from Afghanistan and Syria; many also come from Somalia and Eritrea.
The support from the Gemeinnützigen Stiftung der Deutschen Beteiligungs AG will make it possible for the IFZ to create additional programmes that help young immigrants integrate more quickly and more successfully. In particular, the programmes could include German language courses and recreation activities for which there is currently insufficient public funding.
Detailed information on the IFZ is available here.