Project "Franziskustreff"
To mark the 50th anniversary of Deutsches Beteiligungs AG in 2015, the Gemeinnützige Stiftung der Deutschen Beteiligungs AG made a one-time donation in support of the Franziskustreff Foundation in Frankfurt am Main.
In 1992 Friar Wendelin Gerigk opened the "Franziskustreff" at the Capuchin Liebfrauen Monastery in Frankfurt am Main. He wanted to create a welcoming space for the needy and homeless. The beginnings were not easy. His start-up capital amounted to DM 1,500. Nonetheless, Friar Wendelin began his mission in line with his guiding principle "If God sends the poor to us, he will care for them too". And in fact, the right people were always there with the right assistance at the right time. To put the Franziskustreff on a firmer basis, the Capuchin Province of Germany established the Franziskustreff Foundation, which has been recognised as a charitable non-profit organisation. The Foundation would be glad to receive further grants and donations.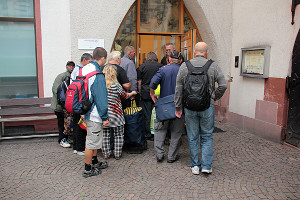 The Franziskustreff provides a hearty breakfast to homeless and poor people in the centre of Frankfurt. The guests pay a small sum of 50 eurocents for breakfast; on holidays, breakfast is free of charge. Up to 160 guests come to enjoy the meal each day, as well as a warm refuge in winter and the Franciscan atmosphere all year round.
The Franziskustreff is more than a "soup kitchen". Particularly among the regular guests, groups have formed that enjoy breakfast together every morning. They also talk, discuss issues and provide assistance to each other. Many guests have questions or problems that can only be addressed by professionals. A social worker is therefore always willing to lend an ear, provide information, assist in contacting the relevant authorities or support guests in finding further services. The Franziskustreff even makes it possible for some guests to live in shared housing, an opportunity that has helped many individuals in their personal development.
Detailed information on the Franziskustreff is available here.